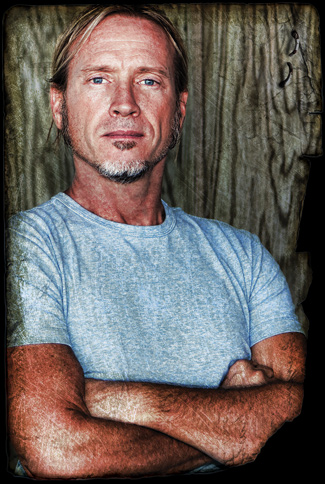 Daniel Ray Norris
President of SlapDash Publishing, Daniel is the author of two books about the good old days at Carolina Beach, North Carolina. Carolina Beach, NC - Images and Icons of a Bygone Era, Volume 1 and Friends & Neighbors Remembered, Volume 2. He is an avid photographer, graphic designer, biology teacher and videographer. Born in Wilmington, NC and raised at Carolina Beach and Teachey, NC, Daniel is phenomenally proud of his heritage and strives to create beautiful books that accurately and colorfully reflect the local culture and history of the lower Cape Fear region. Daniel is a direct descendant of Blackbeard and struggles daily not to wreak havoc among the decent folk that reside in the place of his birth, Wilmington, North Carolina.

"I attended Harrells Christian Academy in Sampson County, from Kindergarten through 12th grade. I have a Bachelor of Science in Marine Biology from University of North Carolina at Wilmington and a Masters of Science in Biology-Ecology from the University of Guam. I attended school in Guam for four years - coming home every Christmas and summer. I was inducted into the Ancient Order of the Chamorri by Governor Joseph Ada in June, 1994. While I truly enjoyed my time spent in Guam, there is no place like being home in North Carolina. I was the Commercial Production Manager and Webmaster for WECT TV-6 for 7 years and I am now a Biology instructor at Cape Fear Community College."

Daniel loves technology and collects all things made by Apple Inc. Trying new foods is another passion. Not surprisingly, his family has a long and varied history in the restaurant business. On that point, he considers Britt's Donuts "the pinnacle of culinary perfection" and he has authored a book on the subject. Daniel, his wife and their two lovely cats, live in Wilmington, NC.
slapdashpub@me.com • tel. 910.232.0604
And while I am at it...
I don't wear a tie very often,
but when I do, it's either
a bow tie or a clip-on.
circa 1972 (Teachey, NC).
An " off the wall " request
The heading says it all... Get it? Oh, nevermind.

I am always on the look out for old ads, images, artifacts and so on. Recently, I have been hankerin' for a few good photographs from the old-ish skating rink on Oleander Drive in Wilmington - SportsWorld. Back in the 1970s, I spent many an evening there skating, playing video games, listening to disco music and enjoying all that blue shag carpet on the walls. If you have any decent photos of SportsWorld - I would love to borrow them. Especially of the inside - people "shootin' the duck", roller dancing or disco dancing. I'd give them right back and you would have my undying appreciation. I even had those goofy lights you could snap to the bottom of your skates.