---
Joseph "Skipper" Funderburg


Preview of Surfing on the Cape Fear Coast
Download 6MB PDF of selected pages

News Flash!
Article on recently discovered 1909 postcard - that re-writes surfing history for the East Coast.

Links from the Author
Surf 64 Productions LTD.
UNCW Surfing Archive
John Braswell Photography
WB Live Surf.com
DoubleWide Skate & Surf
SurfExpo.com
National Speed, Inc.
Legendary Surfers
Surfing Heritage Foundation
Surf House

Skipper is a renown Cape Fear Coast pioneer surfer and waterman. He is known for his humor, perseverance and unsinkable nature. He grew up on the Cape Fear Coast, started his apprenticeship in surfing in the mid 1950s, played around with balsa surfboards in the late 1950s and then helped popularize stand up surfing by the early 1960s.

He has worked as a horse stable owner and construction manager, but beginning in 1968 and for more than a third of a century, his work life was spent as a professional ship or yacht captain. He has lived a waterman's life and ridden waves all over the Atlantic Ocean, Pacific Ocean and elsewhere. As a well-seasoned traveler and a master mariner, the treasures he liberated always included good surf.

Skipper has been writing about surfing for over forty years and serves as the native Cape Fear Coast's preeminent surfing historian. He currently resides on the Cape Fear Coast with his wife and two children.

Skipper has been nominated for induction into the East Coast Surfing Hall of Fame by Cecil Lear, President of the East Coast Surfing Hall of Fame and a Founder of the Eastern Surfing Association. Prominent members of surf media, manufacturing, design and athletism have joined forces to support Joseph "Skipper" Funderburg's enshrinement into the East Coast Surfing Hall of Fame. Skipper truely deserves this honor and recognition!






---
SCFC News & Events

Upcoming Engagements & Signings
Let's Go Surfing Book Signing

Thursday - May 24, 2012 - 1pm to 6pm

Barnes & Noble Booksellers - Mayfaire Town Center
850 Inspiration Drive - Wilmington, NC 28405
910-509-1880
---
Local Retailers

Carolina & Kure Beach
Island Tackle & Hardware
The Book Shop
Sand Barz Surf & Skate
Island Ice Factory
Carolina Beach State Park
The Yankee Trader
Surf House
NC Aquarium at Fort Fisher

Wrightsville Beach
Surf City Surf Shop
Sweetwater Surf Shop
Wrightsville Beach Museum
Redix

Wilmington
Barnes & Noble
Aussie Island Surf Shop
Momentum Surf Shop
Two Sister's Bookery
Pomegranate Books
Surf Camp
Hot Wax Surf Shop
Books-A-Million
NOFO - The Forum, Market & Cafe
Dragonflies Gifts
UNCW Bookstore

Leland (Waterford)
RBR Books

Surf City
Spinnaker Surf Shop
Hampstead
DoubleWide Skate & Surf
Porter's Neck
Sidearm Surf & Skate
Raleigh
Quail Ridge Books and Music
Previous Events
July 10-12, 2009 - Friday ~ Sunday 8 AM until 5 PM
5th Annual Reef Sweetwater Pro - Am Surf Fest, Oceanic Street, Wrightsville Beach, NC
The surf was up for the the epic summer tradition, as Skipper joined the beach caluldron for another notable book signing. The competition was a mix of international and local East Coast surfers, convening to showcase a slew of goods and skills. The full capacity crowd, observed one of the largest surfing contests on the East Coast, as professional competitors vied for the $20,000 prize purse. Skipper was humbled by the healthy spectacle and the welcome reception from the thousands of spectators, contest officials, sponsers, competitors and The Town of Wrightsville Beach.
July 13, 2009 - Monday, 7 PM - 8 PM
WHQR 91.3 FM and Star News Prologue Book Club Interview
Join Ben Steelman of the Star News, as he endorses Surfing on the Cape Fear Coast, a notable work by regional author, Joseph "Skipper" Funderburg. Skipper and Daniel Ray Norris, Publisher will be present for the live interview about Skipper's book, which has been heralded as an extremely creative and colorful retrospective of Cape Fear Coast surfing history.
June 20, 2009 - Saturday - 10am - 3pm
Tower 7 Baja Mexican Grill and Cafe Del Mar - 1 Stone Street - Wrightsville Beach
Skipper's at it again. He'll be sellin' and signin' copies of SCFC. Come on by and meet, greet and eat at Tower 7 while you are there!
May-June 2009
Skipper has been making the rounds on television spreading the good news about Surfing on the Cape Fear Coast. Skipper appeared on WWAY TV 3 Book Corner, May 8th, then was invited to appear on the Cape Fear Pride show, May 20th. Skipper is also attending official board meetings of local goverenments, providing notification of the recent discovery of 1909 & 1912 North Carolina surfing images. A few are, New Hanover County Board of Commissioners Regular Meeting, May 18; Town of Wrightsville Beach Board of Alderman Regular Meeting, May 28; Town of Carolina Beach Regular Board of Alderman Meeting, June 9; Town of Kure Beach Regular Board of Alderman Meeting, June 23. Renown, as the Cape Fear coast's liveliest live wire, Skipper continues to keep 'em coming!

April 24 & 25, 2009
Wrightsville Beach Lifeguards Reunion
Skipper was honored to be a part of the event team and humbled by the presence of over 100 lifeguards and their families. Lifeguards representing seven decades were present, including several from the 1940's. Skipper delivered the keynote speech on the history of lifeguarding on the North Carolina coast. The sucessful event was blessed with the beautiful weather and the cougars were on the prowl for every girls summertime dream.
Wrightsville Beach Museum of History
303 West Salisbury Street
Wrightsville Beach, NC
910.256.2569
March 21, 2009 - Saturday, 11am - 3pm
Kiss Winter Goodbye @ The NOFO Spring Fling - NOFO at the Forum
Book signing with local author - Skipper Funderburg
NOFO at The Forum
1125 Military Cutoff Road
Wilmington, NC 28405
910.256.0467
www.nofo.com

February 28, 2009 - Saturday, 8am - 6pm
Surf City Surf Shop - Wrightsville Beach - Annual Tent Sale
Come on down to meet Skipper and help celebrate the global attention Surfing on the Cape Fear Coast has been getting. The Gianormas Tent Sale will sizzle the whole day long. It's guarenteed to put a spring in your step and a special sparkle in the eye. Lady's Who Lunch Alert: for one gorgeous day, meet Skipper next to the big top, in the Original's Tent.
Surf City Surf Shop
530 Causeway Drive, Wrightsville Beach, NC
910.256.2265
December 27, 2008 - Saturday - 11am - 3pm
Tower 7 Baja Mexican Grill and Cafe Del Mar - 1 Stone Street - Wrightsville Beach
Skipper will be on hand to sign books and chat about surfing and all things related. This will be the last surf and sign for 2008. Tower 7 has the most excellent tuna tacos and guac that can be had this side of the Baja peninsula. Grab a bite and chat Skipper up.
December 20, 2008 - 11am - 3pm
Surf City Surf Shop - Wrightsville Beach
Meet Skipper & the Surf Scribe's for book signing at the exciting Surf City Surf Shop, Wrightsville Beach. Find Skipper in the Hall, between the racks and the stacks. One stop shopping anyone?

December 13, 2008
NOFO Restaurant and Gifts - The Forum, Wilmington
From 11am to 3pm, Saturday. Even though it is getting mighty close to the Christmas smack down, it will not be too late to get a copy of SCFC. Skipper will be playing Santa Claus and he will be glad to personalize a copy for you.


December 6, 2008
Federal Point Historic Preservation Society - Carolina Beach book signing
Four, count 'em four, SlapDash authors will be at your beck and call to discuss and sign a total of 5 SlapDash titles. 11am to 2pm at the History Center behind Carolina Beach Town Hall.
December 2, 2008
Pomegranate Books - book signing
Skipper will be on hand Tuesday, from 7 to 9pm, to sign and sell SCFC. Please stop by to chat and get your copy signed.
October 29, 2008
Eastern Surf Magazine Review
Wow! I think I can now honestly say that SCFC has garnered more wonderfully positive publicity than any other SlapDash title. Just yesterday we received a copy of the latest Eastern Surf Magazine - the preeminent periodical for all things related to the sport on the east coast, and it had a glowing review of SCFC. Check it out below in Media Buzz.
October 25/26, 2008
The Surfrider Foundation Clean Water Classic - Wrightsville Beach
Skipper will be there for a book signing. More details as they emerge.
October 7, 2008
Our State Magazine
We got a call from a mystery lady the other day. She asked could she buy "that wonderful surfing book that she read about in Our State Magazine". Well, we weren't sure what she was talking about until we got our hands on the October issue of said magazine - Not just any magazine but the "créme de la créme" of all magazines that are NC oriented. And lo' and behold - Surfing on the Cape Fear Coast is featured in the book section. What a slap in the head that was! See link below in the Media Buzz section.
August 16-17
Signing at Wrightsville Beach, NC
East Coast Wahine Championships
Skipper was " in the house" at the East Coast Wahine Championships - August 16-17th, 2008. The ECWC is the largest all-female surfing contest on the American East Coast and beyond. During the two days of comraderie and fabulous surfing competition, Skipper was present to sign beacoup copies of his book. During the surf action event, Skipper was tickled pink to promote SCFC, as the first book to chronicle and examine the surfing history in southeastern North Carolina. Yep, just in time for back to school, SCFC has found it's way into local libraries and schools for students to use for reports, essays and research. It's textbook season!
www.eastcoastwahines.com
July 20
Book signing at The Beach House Bar and Grill, Wilmington
Benefit for Surfers Healing, Wrightsville Beach Chapter
Slapdash Publishing, LLC donated a portion of the sale of each Surfing on the Cape Fear Coast book to Surfers Healing Wrightsville Beach Chapter. Two boss bands, a variety of raffles and a couple of hundred happy people made the day a keeper. Good food, cold bevy's and good vibes.
www.thebeachhousebar.com
www.surfershealing.com
July 6
StarNews Coverage by Ben Steelman
Ben Steelman, genius writer for the StarNews in Wilmington, penned a HUGE article detailing Surfing on the Cape Fear Coast. Skipper and I have been anticipating the article for a few weeks and we were rewarded with a tremendous and informative article. We garnered a spot on the front page (top left) and more than a page and a half of actual article in the Today section. We are completely stoked!
See for yourself.
Part 1 (front page blurb), Part 2, Part 3.

July 4
Signing at Britt's Donuts
Bobby Nivens owner and head donut maker at Britt's Donuts, the Boardwalk - Carolina Beach, invited me and Skipper to have a book signing this 4th of July. Skipper and I signed some books, played games of chance (I believe illegal in NC!) and dined with the donut shop staff on a delicious lunch cooked for us by Maxine Nivens, Bobby's wife and local donut queen. Skipper and I gave away some limited edition bumper stickers and generally had a good ol' time. The day before, we met at Barnes and Noble to deliver our flammin' hot hot hot selling books. I snapped a picture of Skipper at the North Carolina shelf which prominently featured the most popular (and currently only - but not for long) 3 SlapDash titles. Top shelf all the way baby!


June 21
Another Signing!
Two Sisters Bookery, located in the Cotton Exchange, has arranged to have Skipper come to their store on June 21 at 3:00pm to 4:30pm to sign his book. The public is invited to attend.

June 9
Skipper's First Signing.
Join Skipper and Daniel this Monday at "The Book Shop" at Carolina Beach. The Book Shop is inside the Snow's Cut Monthly officies. Skipper will be there signing his new book June 9. Starts around 5:30 pm.

---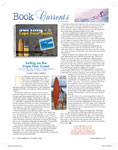 NC Boating Lifestyles Magazine
December 2008

Page 1, Page 2.
Local Sessions Magazine
Dec 08 - Jan 09

Our State Magazine
October, 2008

Part 1 (blurb), Part 2, Part 3.
StarNews - Today Section
July 6, 2008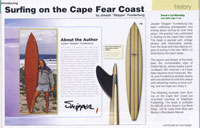 Snow's Cut Monthly, June 2008

DVD of Vintage Surfing. Makes a great companion to
Surfing on the Cape Fear Coast, Order here


Snow's Cut Monthly, May 2008

Island Gazette, May 21, 2008

---

(Promotional Banner)

UNC Alumni Review
JanuaryFebruary 2009

Eastern Surf Magazine, October 2008

Wrightsville Beach Magazine, August 2008

Lumina News, May 2008



Surf Exhibt Article
StarNews, May 2008, PDF


Board Shorts Article
StarNewsNNovember 2007

Snow's Cut - The Book Shop
June 2008
---
Wrightsville Beach Magazine
August 2008
Waves of Local Surf History
Joseph "Skipper" Funderburg spent his childhood on the Cape Fear Coast, catching waves in the 1950s, one of the area's early surfers. His love for the water kept him close to home and as an adult, he became a professional yacht captain. As his connection to and understanding of our coastal waters grew, so did his desire to share his knowledge about the last 40 years of local surfing.
The result is Surfing on the Cape Fear Coast, an inspirational must-see for local surfers. Published by SlapDash Publishing, this beautiful coffee table book offers colorful maps, timelines and photographs along with great graphics that capture the history of surfing at Wrightsville and Carolina beaches.
Find it at Surf City Surf Shop, Sweetwater Surf Shop, Wrightsville Beach Museum of History, Barnes & Noble and Aussie Island Surf Shop.

— Rachel Dickerson
---