The Reluctant Hermit
of Fort Fisher
by Fred Pickler & Daniel Ray Norris
Available Now!
160 pages, 11" x 9", Hardcover
ISBN: 978-0-9834175-5-2
$29.95
plus shipping/handling, tax.
---
For signed copies: Please request in instructions on order page.
Orders for this book are fulfilled by Fred Pickler (email)
---
Also Available at local booksellers

Island Book Shop (Carolina Beach)
Island Tackle & Hardware (Carolina Beach)
NC Aquarium at Fort Fisher
Two Sisters Bookery
Barnes & Noble, Mayfaire


Fred Pickler

Fred Pickler's photography has appeared in Life Magazine, and he performed the role Yellow Man in David Lynch's film Blue Velvet. A Deputy with the New Hanover County Sheriff's Department for eight years, he was Chief Evidence Technician at the death scene of Fort Fisher hermit, Robert Harrill. When Fred is not traveling the world, his home base is in Wilmington, North Carolina, not far from the bunker where the Fort Fisher Hermit, Robert Harrill, became a legend.

"I have driven a truck for the local zoo, and an oil truck for a station at Carolina Beach, ran a bar, in 1971, the New Hanover County Sheriff's department employed me as a Deputy Sheriff for eight years. In 1979, I embarked upon a sales career with Smith & Wesson gun company for the next seven years. I became the US agent for NICO Pyrotechnik, based in Trittau, Germany, selling anti-terrorist munitions, and still do today."

"I was born in the Sandhills of North Carolina, Pinehurst." says Fred. "I lived there the first sixteen years of my life before moving to Wilmington. I traveled to other states on tour with the U.S. Army, spent 1960 to 1962 as an Infantryman during the building of the Berlin Wall, and worked in intelligence collection in former East Germany for a year. After a short break in service, I re-enlisted in December of 1962, schooled in Massachusetts with the former Army Security Agency, made a short tour in Korea, was reassigned to Arizona for two years, where I was on the Fort Huachacha Post Rifle Team, and received a second honorable discharge."

"Wilmington's Star News hired me as a photographer, and I also was a stringer for United Press International. I was staff photographer at the Sun Sentinel in Pompano Beach, Florida, for a few months before coming home to freelance as a photographer."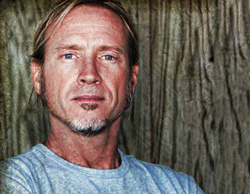 Daniel Ray Norris

President of SlapDash Publishing, Daniel is the author of two books about the good old days at Carolina Beach, North Carolina. Carolina Beach, NC - Images and Icons of a Bygone Era, Volume 1 and Friends & Neighbors Remembered, Volume 2. He is an avid photographer, graphic designer, biology teacher and videographer. Born in Wilmington, NC and raised at Carolina Beach and Teachey, NC, Daniel is phenomenally proud of his heritage and strives to create beautiful books that accurately and colorfully reflect the local culture and history of the lower Cape Fear region. Daniel is a direct descendant of Blackbeard and struggles daily not to wreak havoc among the southward sailing vessels that ply the Intracoastal waterway.

"I attended Harrells Christian Academy in Sampson County, from Kindergarten through 12th grade. I have a Bachelor of Science in Marine Biology from University of North Carolina at Wilmington and a Masters of Science in Biology-Ecology from the University of Guam. I attended school in Guam for four years - coming home every Christmas and summer. I was inducted into the Ancient Order of the Chamorri by Governor Joseph Ada in June, 1994. While I truly enjoyed my time spent in Guam, there is no place like being home in North Carolina. I was the Commercial Production Manager and Webmaster for WECT TV-6 for 7 years and I am now a Biology instructor at Cape Fear Community College."

Daniel loves technology and collects of all things made by Apple Inc. Trying new foods and cuisines is one of his passions. Not surprisingly, his family has a long and varied history in the restaurant business. On that point, he considers Britt's Donuts "the pinnacle of culinary perfection" and he has authored a book on the subject. Daniel is 5'6" tall and 175 lbs, the same height and "nearly" the same weight as the Hermit. He lives in Wilmington, with his wife, Mary and son Jack.