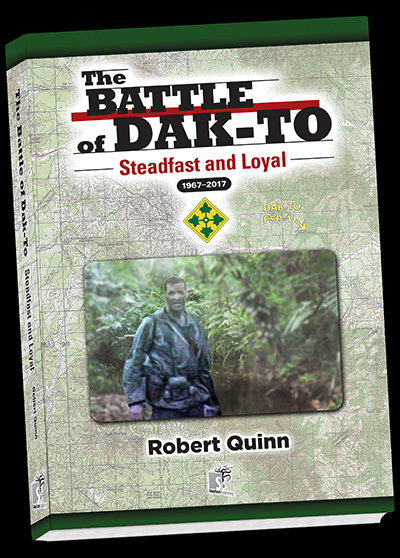 The Battle of Dak-To
Steadfast and Loyal
By Robert Quinn

The Battle of Dak-To – Steadfast and Loyal, will take the reader to the front line of one of the most pivotal battles of the Vietnam War. Told from author and soldier Robert Quinn's perspective, The Battle of Dak-To pulls no punches in conveying the story of a battle that was fought not only in the jungles of Vietnam but also in the hearts and minds of American civillians at home. The author's first hand accounts of the bravery, skill and resiliance of his fellow soldiers are colorfully and honestly woven into the book's gripping narrative.
Available Now.
226 pages, 7 x 10, Paperback
ISBN: 978-0-9984115-0-7
$20.00
Shipping $3.00
Orders Filled Directly from the Author!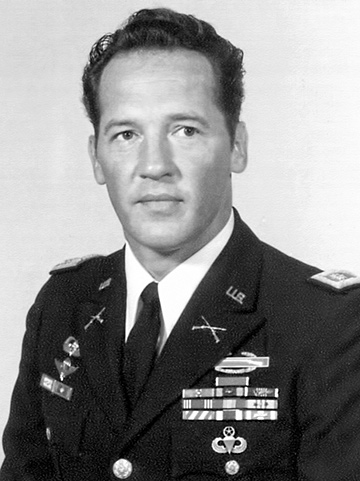 About the Author
Robert Quinn
traverse0921@gmail.com
The author, Robert (Bob) Quinn, enlisted in the United States Army at age sixteen and was trained as an Army Sailor serving on military ships in Korea and the Atlantic Coast of the United States. He attended Infantry Officer Candidate School and graduated from Desiderio Barracks, Fort Benning, Georgia commissioned a 2nd Lieutenant (USAR). After graduating Magna Cum Laude from St. Benedicts College, Atchison, Kansas he received a commission as a Regular Army Officer. His Career included service as a Rifle and Mortar Platoon Leader, Company and Battalion Commander in the 2nd Armored and 24th Infantry Divisions. He graduated from the Infantry Career Course, Fort Benning, Georgia, The Special Forces Officers Course, Fort Bragg, North Carolina, The Army Language School, Monterey, California, The Armed Forces Staff College, Norfolk, Virginia and The Foreign Area Officers Staff College, Fort Bragg, North Carolina. He served in Korea, Japan, Okinawa, Formosa, Philippines, Thailand, Singapore and Malaya. His service included three tours in Vietnam. He served on a Special Forces "A" team in MACSOG in 1964. In 1967 he joined the Fourth Infantry Division serving as Assistant Operations Officer in the 1st Brigade, Operations Officer in the 1st Battalion 8th Infantry and G-3 for Task Force Spoiler in Ban-Me Thout. He returned to Vietnam in 1971 serving as a member of MACV Advisory Team 36 in Pleiku Province. His service included tours as a Green Beret in the 1st and 5th Special Forces Group. He served as the Chief of Supporting Weapons Test Branch at the United States Army Infantry Board, Fort Benning, Georgia where he supervised testing of the "Dragon" Anti-Tank Missile System. He finished his Military Career as the Chief of Training for the United States Army Infantry Center, Fort Benning, Georgia, retiring as a Lieutenant Colonel. He resides in Brunswick County, North Carolina. He previously published, Rock and Roll Cableship, A Sea Soldier Remembers in 2011 and Giving the Infantry a Green Glow in 2015.
---
email contact: traverse0921@gmail.com